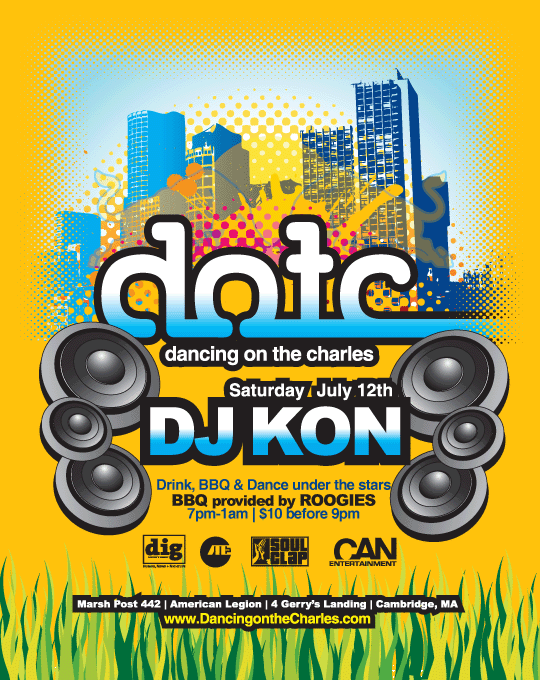 ***LIMITED ADVANCE TICKETS AVAILABLE ON GOING.COM. Buying your DOTC ticket in advance guarantees you admission AND it's at the pre 9pm price regardless of when you arrive! But you still don't want to miss the BBQ, sunset and chillout beats from 7-9!***

RAIN OR SHINE – CASH ONLY BAR
Saturday, July 12th, Dancing on the Charles is in full effect with the forth installment of the 2008 summer event series. Headlining this event with a very special BBQ SET from 8-10p, is internationally acclaimed "King of Digging", BBE recording artist and lifetime Boston resident DJ KON. KON is known for his mind-blowing technique and impeccable selection of funk, soul, disco, house, boogie and WAY MORE. Also performing will be DJs Randy Deshaies, Sergio Santos and a closing set from Soulclap.
Dancing On The Charles is a deliberate reaction to the people's desire for a return to grassroots nightlife. Big sound system, great DJs, electronic music, BBQ, dancing outdoors and affordable prices. Thanks to the City Of Cambridge, DOTC returns on June 28th as a benefit for the American Legion and the Charles River Watershed Association!
Click here for more info, upcoming dates, tickets, video & pics.