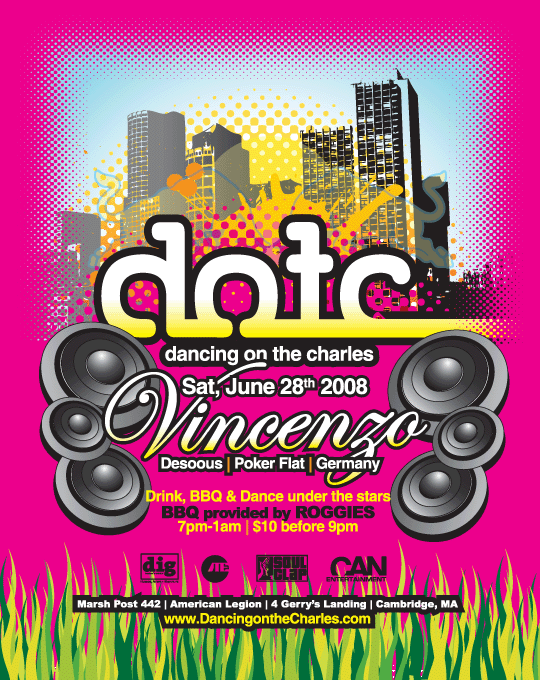 ***LIMITED ADVANCE TICKETS AVAILABLE ON GOING.COM. Buying your DOTC ticket in advance guarantees you admission AND it's at the pre 9pm price regardless of when you arrive! But you still don't want to miss the BBQ, sunset and chillout beats from 7-9!***

RAIN OR SHINE – CASH ONLY BAR
The June 28th / "triumphant return from the brink" edition of Dancing On The Charles features special guest Vincenzo from Berlin. Known as the the "king of pong", Vincenzo and has been releasing innovatively funky house and techno since 1997 on amazing labels like Dessous, Poker Flat & liebe*detail and has developed a reputation for his signature claps. We have a DJ mix coming from him soon, but for now just check out his music on myspace and you'll see why we're so excited to have him perform under the stars on the Charles.
Dancing On The Charles is a deliberate reaction to the people's desire for a return to grassroots nightlife. Big sound system, great DJs, electronic music, BBQ, dancing outdoors and affordable prices. Thanks to the City Of Cambridge, DOTC returns on June 28th as a benefit for the American Legion and the Charles River Watershed Association!
Click here for more info, upcoming dates, tickets, video & pics.