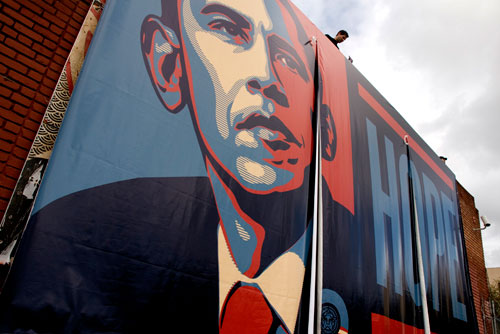 Shepard Fairey's Hope/Elysian Park Obama Billboard
The pro-Obama musical onslaught has finally found it's way into the realm of house music. As those of you who have been scanning the Beatport home page already know, House Music United's 'Yes We Can' is (at the time of blogging) the site's second most downloaded track. The track features snippets of Barack's 'Yes We Can' speech on the night of the New Hampshire Primary back in Februrary.
'Yes We Can' is the latest of a slew of pro-Obama tracks. Notably, reggae musician Coco Tea has been chanting the candidate's last name over his track, and Will.I.Am & Friends made their black and white tribute, also titled 'Yes We Can', in sync with the Senator's speech itself.
Yes We Can was Released on Reinvent Music, a generic electronic dance music label sporting glamour DJs like Antoine Clamaran and Roger Sanchez. Not much is known about the producer(s) behind the moniker House Music United. Is this just an opportunistic record label's attempt to make a quick buck of off current events, or a genuine commemoration of what just might go down as one of the most historic speeches of our century? Clappers and Clappettes, that judgement is yours to make.